who we are
Welcome to Made in Minny! I'm Naomi, the creative lady behind the brand. MIM is all about adventure, being inspired by the great Minnesota outdoors. My mission is to craft cozy beanies and accessories that not only keep you warm but elevate your everyday style too. It's about blending quality craftsmanship with everyday life.
Every piece is handcrafted by yours truly. I pour my heart into each design and stitch because I believe in quality that lasts, and I love the uniqueness of our handcrafted goods.

I hope you find this space as a source of inspiration, warmth, and love. Thanks for joining the MIM journey!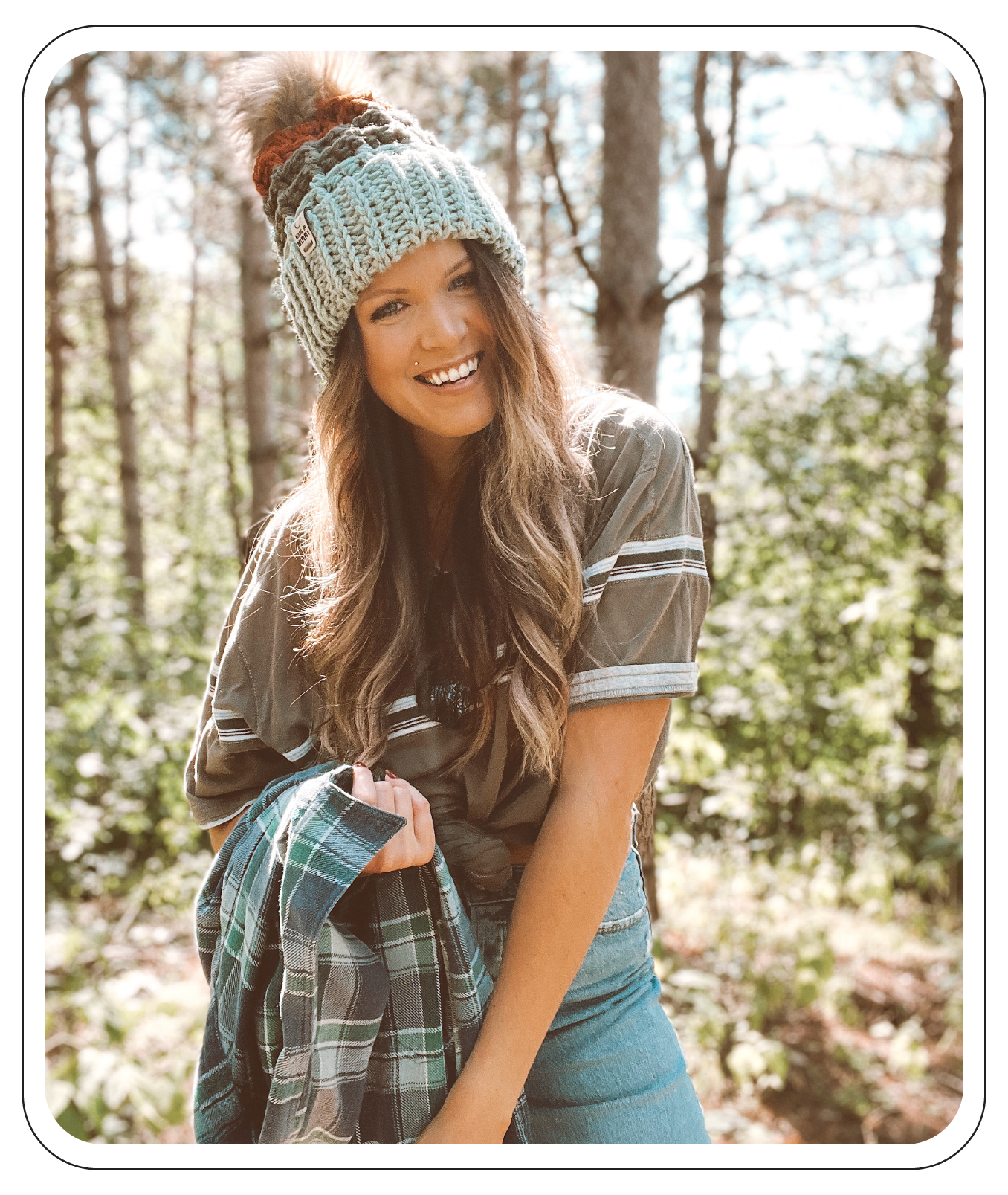 ↟ hi, I'm Naomi
I'm Naomi, the owner of Made in Minny. Everything you see here is a true reflection of me. I'm behind it all, from handmaking your products (crocheting and sewing) to the design of our website and packaging.
I'm a creative soul, a graphic designer, and an outdoor adventurer with a passion for design and entrepreneurship. I was born and raised in the Twin Cities area, but my heart belongs to the northlands of MN! 'Up North,' at my cabin surrounded by pine trees and lakes, is my happy place.
Love, Love, Love This Shop

"I have several Made In Minny products, and they never disappoint. This hat has the perfect slouch and feels so so nice. The colors are all the best neutrals too. Love everything Naomi makes!" -Jan N.

The Best

"These are the only headwraps I wear! They are my absolute favorites and the only headwraps that stay on my head. I own 10 of them, I love them so much!" -Lacy P.

Beautiful Beanies

"Every beanie fits perfect the quality is amazing and just knowing it's made with love! Supporting Minnesota small businesses means everything!" -Jill G.
My journey in fashion and business is where it all began. A year after graduating college at the UofM, I started crocheting beanies for myself and used my grandma's vintage sewing machine to make headbands. It might not have been glamorous, but it was a start. When family and friends fell in love with what I created, I knew it was my chance to turn this into something bigger and build my own brand. Nine years down the road, here we are!
You'll often catch me wearing Made in Minny gear throughout the week! When I'm not crocheting, I'm usually searching at thrift stores, which is another side project of mine called Minny Thrift. I thrive on connecting with my customers, so let's chat! Feel free to reach out to us at info@madeinminnyshop.com or join me on Instagram where I'm usually hanging out @made_in_minny!